Fourth and fifth graders learn about joining (this) school newspaper this year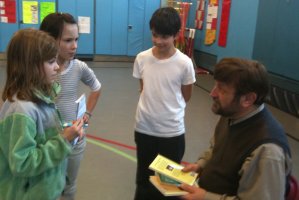 COLONIAL CLASSROOMS — Fourth and fifth graders heard a talk about the newspaper club on Oct. 10. Mr. Zahradnik told everyone the who, what, when, why and how of writing stories in the newspaper.
Newspaper will meet every single Monday and write stories as well as go on a field trip and have  lots of fun, said Mr. Zahradnik, the co-advisor of the Colonial Times with Mrs. Cavalli.
A lot of kids are very excited to join the newspaper club. All fourth graders and fifth graders can participate.  Every kid who joins gets a Google Docs account (to write stories) and a reporter's notebook.
Emma Russalo (5-V) said, "I have never been in newspaper before, so I am glad that I can make time in my schedule to make it happen."
Jackson Sylver (4-C) said, " I get to write and that is what I love to do."
Miranda Barrett (4-M) said, "It is a fun opportunity to start newspaper."
Even teachers think that the newspaper is a way for students to interact with each other and write fun and interesting stories.
Mr. Alex Ventura, who teaches fifth grade, said "the newspaper is a fantastic way to stay involved in what is going on in the school and practice the art and craft of writing."
About the Contributor
Charlotte Howard, News Editor
Hi, my name is Charlotte and I am a newspaper editor for the Colonial Times.  I am in class 5-V  and I am doing news for the Colonial Times.  Some...