Jonathan Kruk tells fourth graders interesting stories about American history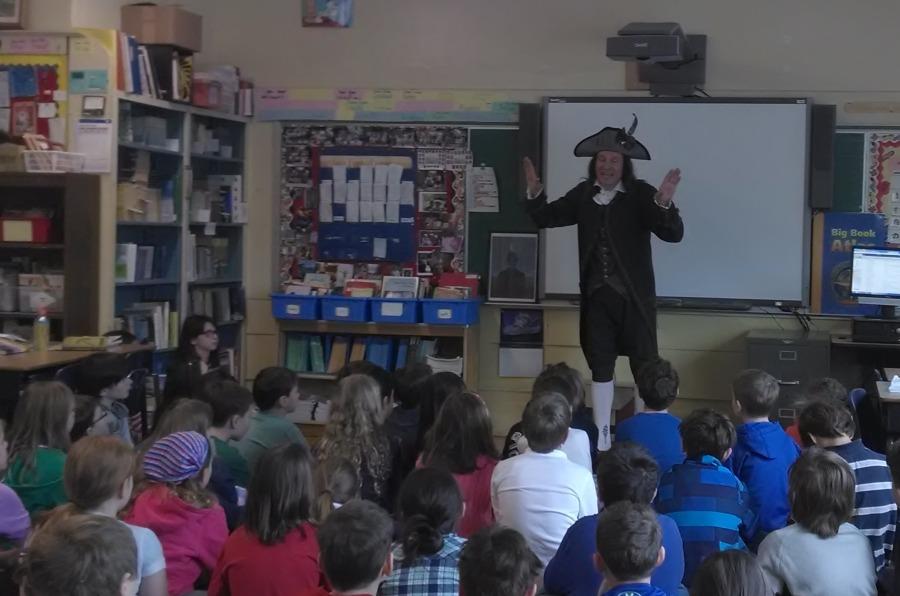 COLONIAL CLASSROOMS — Master storyteller Jonathan Kruk visited Colonial School on Feb. 25 to tell some interesting stories to the fourth grade students who are learning about the American Revolution.
Mr. Kruk is famous for his enchanting style of storytelling and holds the title of Best Storyteller in the Hudson Valley. He grew up in Katonah and started by telling bedtime stories to his little brother. Later, he graduated in English and educational theater from New York University.
The storyteller also told the students about Yankee Doodle and what the name means and why people would say it. Also, he said how certain people played a roll in the American Revolution. For example, Colonel John Glover was on a rock with his spyglass and saw that the British were coming to attack in the Pelham area.
Mr. Kruk entered the Colonial classroom in a very fashionable way. He was dressed up as a Colonist. This made his storytelling come alive.
The first story Mr. Kruk told the students was "Tea Parties, New York Style." Mr. Kruk also told "The Story of Yankee Doodle," "The Battle of Pelham Heights" and "Sybil Ludington's Revered Ride." In these stories, students learned a lot of things which they did not know. They heard there were tea parties in New York as well Boston, Yankee happens to mean stinky cheese, and Sybil Ludington may have been in disguise as a boy when she was warning the Colonists.
Here are some student reactions to the visit:
Georgia Russello (4M): "I enjoyed listening to Mr. Kruk's stories because he told them in a fun and exciting way."
Jack Tirsch (4M): "I learned that New York had its own tea party just like Boston."
Tyler Chang (4G): "He was dressed weird."
Nick Sarcinella (4H): "It was decent and he said interesting stuff and dressed like he lived in the seventeen hundreds."
Charlie Parent (4G): "He did good story telling. Also his clothes fit with the story."
Thomas Shelton (4M): "He was funny and he found a good way but weird way to tell about the American Revolution."
Later, Mr. Kruk visited the three fourth grade classes one by one to conduct a short writing workshop. It had simple questions like "What is one fact that you learned?" and "What is one question you have about one of the stories told?"
Mr. Kruk has authored a book Legends and Lore of Sleepy Hollow and the Hudson Valley. If you are interested in learning more about local American history, you can read his book.
About the Contributors
Tisya Sharma, News Editor
I am Tisya Sharma, student of 5V. This is my third year at Colonial, and I love it. This year, I am a News Editor for the Colonial Times. I am involved...