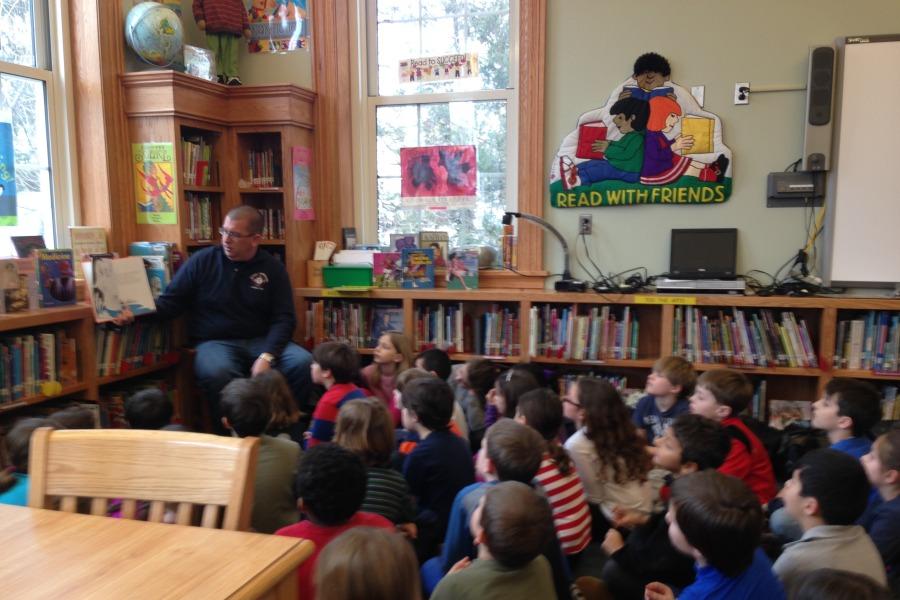 Tisya Sharma, Georgia Russello
COLONIAL LIBRARY — Mr. Robert Benkwitt came to read stories in honor of Dr. Seuss's birthday and Read Across America Day, which was March 3. Mr. Benkwitt is the son of Colonial head custodian Robert Benkwitt, as well as a firefighter in Pelham. He read "Horton Hears a Who" to the second grade.
Matthew Michailoff of 2D said, "I liked it because the firefighter read it funny and well."
Dr. Suess is known for children's books like "Green Eggs and Ham," "The Cat in the Hat," "The Lorax," "One Fish Two Fish Red Fish Blue Fish," "The 500 Hats of Bartholomew Cubbins," "Fox in the Sox," "The King's Stilts," "Hop on Pop," "Thidwick the Big-Hearted Moose," "Horton Hatches the Egg," "How the Grinch Stole Christmas" and "Horton Hears a Who."
For some kids, the first book they read was by Dr. Seuss.
"Horton Hears a Who" is about an elephant, Horton, who adopts a small planet full of little persons, with their leader being a little, tiny mayor. Thinking Horton must be more than crazy to be nice to a dust speck, a kangaroo and her gang of monkeys threaten to boil the elephant's little friends in beezle-nut oil. To save Whoville, Horton tells the tiny people to make as much noise as they can to show their existence. Everyone in Whoville shouts, sings and plays instruments, but still no one but Horton can hear them.
The mayor of Whoville searches until he finds a very small shirker named JoJo, who isn't screaming. The Mayor carries him to the top of Eiffelberg Tower, and that's when Jojo lets out a loud "Yopp!" which makes the kangaroo and the monkeys hear the Whos.
The moral of this story is size doesn't matter whether you're as big as an elephant or as small as a speck.