African drums bring the beat (from our June print edition)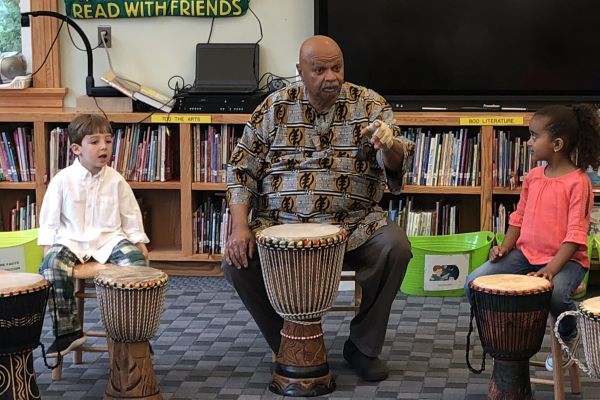 COLONIAL — An African drumming group came to the school on May 14 and 15 to perform for the Kindergarten through third grade classes and teach the kids how to play. Principal Tonya Wilson's dad, John Grady, and her mom, Mrs. Grady, performed African drumming for the kids.
"I think children have fun and the drumming is a good exercise for the children," Mr. Grady said. "I really enjoy playing and sharing information to the kids. The drums are handmade and made from natural resources such as goat skin, hollowed out trees and colorful cloth used as decoration."
During the drumming lessons, each student was provided with their own drum called a djembe (pronounced: JEM-bay). They sat in a drum circle. In the drum circle, the children made different animal noises, such as an elephant and a horse. Also, some grades got to color a drum.
A drum circle is a large or small gathering of people that drum together in a circle. It is a demographically diverse gathering of people from different ethnic backgrounds celebrating life through drumming.
Mr. Grady has spent his life learning and practicing on the drums and teaching kids how to drum. He plans to continue to do so. Mrs. Grady loves playing the drums, too.
Mr. and Mrs. Grady perform at weddings and birthday parties for adults and children. They also teach kids how to play the djembe drums at schools.
Penelope McGibbon, a student in Mrs. Hinson's Kindergarten class, said, "I liked it because we got to drum and color. I learned that the middle of the drum is the base and what the sides are called."
Nicholas Esposito said, "I liked African drumming because it was fun. But I did not learn anything."
Grace Gallivan said, "I did not like it because it was boring. I learned how to play a drum, though."
"I liked it because I got to learn about stuff, and I like learning," according to Conner Ginsburg. "I learned about the drum and African culture."
About the Contributors
Bryn Felgner, News Editor
My name is Bryn Felgner. I am a news editor. My favorite color is light pink, and I play many sports, including soccer, fencing and tennis. I love to read,...
Alex Dolen, Student Life Editor
My name is Alex Dolen. My favorite sport is lacrosse. In the summer, I swim and ride horses at Mackinac. I love reading books. My favorite book is "Harry...