Pelham resident Jennifer Merritt talks about her exciting life as a journalist at Reuters
NEW YORK — Ms Jennifer Merritt has seven reporters who work for her at Reuters, where she is the wealth management editor.
"My reporters write about finance," said Ms Merritt, who lives in Pelham. Her team writes about the people and companies that give customers financial advice.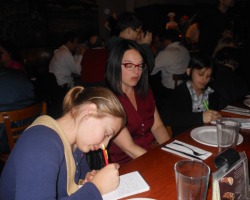 "We cover all the crazy stuff" at Reuters, she said in a lunch interview during a Colonial Times field trip to New York. "We also plan a lot."
Earlier in her career before Reuters, she met saxophone player Kenny G when working as a runner at the Democratic National Convention for MSNBC.
"Another case I covered in my career was about someone who was wrongly accused of a murder," she said. This was a story she worked on at Northwestern University with fellow classmates and continued to cover after college.
Ms Merritt said that in eighth grade English class, her teacher told her she was good at writing and could get a job doing it. At that time, she thought that the only writing job was being an author. In ninth grade, she became an editor for the school newspaper. She eventually became a summer reporter at her local newspaper.
"My least favorite thing about being a journalist are the deadlines," she said. "My favorite thing is a good day when I feel like I made a difference. On some days, you feel like you don't do anything."
"Seeing my name motivates me," Ms Merritt said. "It's exciting, but it makes me nervous. That is a motivation."
She described herself as a curious person. If she doesn't understand something, she needs to look into it. She wants people to know what is happening around them. She said she must be similar to a watch dog.
Ms Merritt said sometimes you get frustrated because things aren't going the way you want. She said in journalism you can find yourself on a good story by accident and then you look back pleased.
Publisher's note: Editors from the Colonial Times met with five journalists in New York City for a discussion and interviews. This is the second in the "Profiles in Journalism" series resulting from that field trip.
About the Contributor
Peyton Rees, News Editor
Hi! I really like sleeping and soccer. My favorite food is brownie batter! I really like being an editor and I can't wait for middle school! I love being...