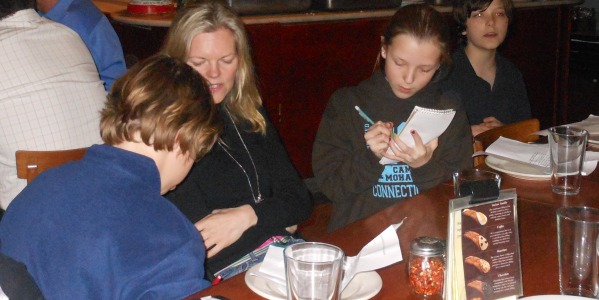 NEW YORK — Claire Atkinson, reporter on the business desk of The New York Post, finds the most challenging part of her job "is focusing on writing a story." So if you're looking for a job in journalism, remember that.
In her work, Ms Atkinson writes about all kinds of things: business, Wall Street, travel, movies, advertisements and music. She said the music industry is her favorite because "it's gossipy." Recently, Ms Atkinson went to the Oscars to write a story, and that was one of her favorites. At the Academy Awards, she met Tim Tebow, Taylor Swift, Donald Trump and other famous people.
Ms Atkinson grew up in Southport, England,  and "wanted to come to America for adventure." A regular day in America goes like this: at 6:30 am, she wakes and checks her Blackberry and cleans her house. At 10 am, she arrives at the office and has a meeting with other staff members of the Post and her boss. Her boss tells them which stories he likes and dislikes. At between 3 pm and 4 pm, she starts writing her stories. Finally, to end the day, 6 pm is her deadline for the stories she is writing.
Ms Atkinson said her favorite person to interview was her boss, Rupert Murdoch. He owns lots of newspapers including the Post and The Wall Street Journal. She was able to interview him because they were at a party and they met and through the conversation, she was eventually able to interview him.
Ms Atkinson has a secert nickname. People call her Johnny Deadline  she is always hustling to get the story.
Publisher's note: Editors from the Colonial Times met with five journalists in New York City for a discussion and interviews. This is the fourth in the "Profiles in Journalism" series resulting from that field trip.