Day in the life of Michigan starts with cinnamon coffee cake and smoothies
MICHIGAN — A day in the life of Michigan is a blast. It begins like this.
Waking up in the morning while coming downstairs. Smelling the cinnamon coffee cake that Aunt Julie made. Blending smoothies and making coffee together for a warm and toasty breakfast. Sitting down at the kitchen table deciding what to do today.
As everyone hops in the car, off we go to pick blueberries. We get our buckets and run off to pick. After everyone is done, we all weigh our blueberries. Our family always competes to see who picked the most. When it is a very special great blueberry season, we even make blueberry jam.
This year was especially exciting because our friend's dog had four puppies. Our family friends are named Judy and Kevin. Judy is a commander in the Chicago police department and is in charge of security for President Obama when he comes to Chicago.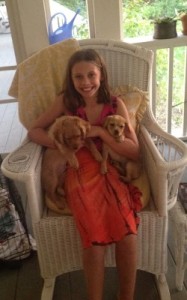 We only saw two of the puppies because the other two puppies found a home together. The two puppies are named Tank (the boy) and Lady (the girl).  Judy and Kevin brought the two puppies over to my grandparent's house and stayed for dinner. The puppies were so cute and loved to cuddle. Now Judy and Kevin have two dogs and two puppies.
My grandparent's house overlooks a lake. Looking at it, you would think that it was an ocean, but you would be wrong, It is a lake! After about 7 pm, there is a beautiful sunset over the water.
Not a lot of kids my age have a job, but every time I visit my grandparent's, I get to work at  their movie theater, The Vickers. The Vickers is more than 100 years old and only has 126 seats. When I worked there this summer, it was a full house. I was in charge of making the popcorn as well as the candy and drinks. It was so much fun, and I am already talking about working there next year. I can't believe I get to work at The Vickers every year.
About the Contributor
Charlotte Howard, News Editor
Hi, my name is Charlotte and I am a newspaper editor for the Colonial Times.  I am in class 5-V  and I am doing news for the Colonial Times.  Some...