Fourth, fifth grades learn to make movies (from June printed newspaper)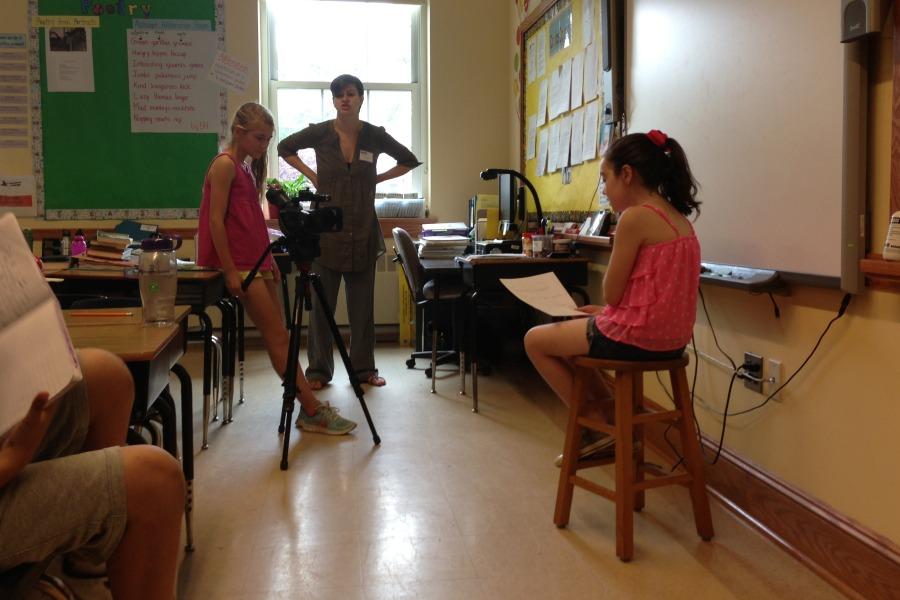 PELHAM PICTURE HOUSE — Did you know that you can do more than just watch a movie at the Pelham Picture House? Our school's fourth and fifth graders found out you can learn extraordinary things there too.
Even though both of the grades went to the same place, they did different projects.
The fourth graders finished their Picture House projects first. Meanwhile, the fifth grade projects started on May 1. Both the fourth and fifth grade classes went four times to the Picture House.
The fourth graders' classes were different every single time. The first session was acting, the second was filming (silent), the third was writing, and the final one was animation.
The fourth grade Pelham Picture House sessions started April 2  and lasted for four weeks.  The sessions ended on April 22.
Maddie Samaan (4M) said, "I thought the four sessions were really fun. My favorite part was when we made the movie, and we dressed up like immigrants from 1850 to 1950."
The teachers also thought the Picture House project was a great way for kids to learn while having fun. "I think the four sessions are great because most kids love to act and like dressing up love to act and like dressing up as their own immigrant," said Mr. Ron Martucci. "Also, a lot of people loved the animation session because it involved a lot of technology."
The whole fourth grade will receive a copy of their movie. According to Mr. Martucci, they are going to watch the movie they made and have some popcorn in class.
The fifth grade did their projects at the same place as t
he fourth grade, but the fifth graders did memory projects about their time at Colonial.
This is how it worked. The fifth graders were put in groups based on their collective memory.  Also, each person did a personal memory on their own. For the collective memory, each person picked a grade, and when it was time to film, the student was filmed saying how they felt about their memory from each grade.
"I think that the Pelham Picture House was a really really fun project," said Morgan McLean (5V). "When we sat in the director Q&A chairs when we were filming, I felt like a professional."
The instructor who helped both grades was Beth Manspeizer.  "Movie making helps kids learn in an experiential way," she said. "They are able to process the themes of the program, whether it is 'immigration' or a 'reflection piece' through doing."
This story appeared in the June print edition of the Colonial Times.
About the Contributor
Charlotte Howard, News Editor
Hi, my name is Charlotte and I am a newspaper editor for the Colonial Times.  I am in class 5-V  and I am doing news for the Colonial Times.  Some...