Porto, Portugal's second largest city, offers amazing fun, activites and places to visit
PORTO, PORTUGAL – Porto is the second largest city in Portugal. I went there on a vacation with my family and discovered amazing food, fun activities and interesting places.
I learned that shoes are the number one production. Next comes a wine called Porto, followed by olives. What I noticed was that there are as many bars and bookstores in Porto as there are Korean delis in Manhattan.
People really like to party in Porto. It was 3:00 a.m. and people were screaming like they were having the time of their life at a festival. They were laughing like crazy, obviously not aware people were trying to get some sleep.
My family and I did a lot of exercise during the trip as well. For example, we climbed a tower with 250 steps. At one point, the bell rang and frightened us all. We also climbed over 800 steps to reach a church. The view was incredible.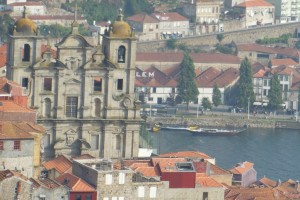 In Porto, there are six bridges. One of them looks like the Eiffel tower except built into a bridge. My family walked across it. We were amazingly high. It was night so the lights reflected onto the river showing more than a sparkling blue.
The beaches in Porto are beautiful. There were a lot of people playing volleyball and soccer on the sand. The frigid and salty waves were enormous. Nobody wanted to leave.
My sister Viviane Privat said, "My favorite part about going to the beach was finding beautiful shells and getting splashed by the waves because there were a couple of really fun ones."
By the way, if you ever go to Porto (this goes for any other place in Portugal), you should know that before you place an order, the waiters always bring tempting bread, butter and olives.  Everyone was awed, and because we were starving, we immediately started eating.
When the check came, our eyes widened in surprise. We had been way overcharged for the bread, butter and olives. Trust me, you would be as stunned as we were if you knew the price.
Overall, Porto was fantastic. Our journey continues in Lisbon, Portugal's capital. I hope if you ever happen to go to Porto, you will have just as much fun as I did.
View Comments (1)
About the Contributor
Emilia Privat, News Editor
Hi, my name is Emilia and this year I am a News Editor. I am in 5V.  My hobbies include soccer, reading, writing, and drawing. I enjoy the outdoors and...