The Taj Mahal is loaded with interesting history, beauty and fine architectural details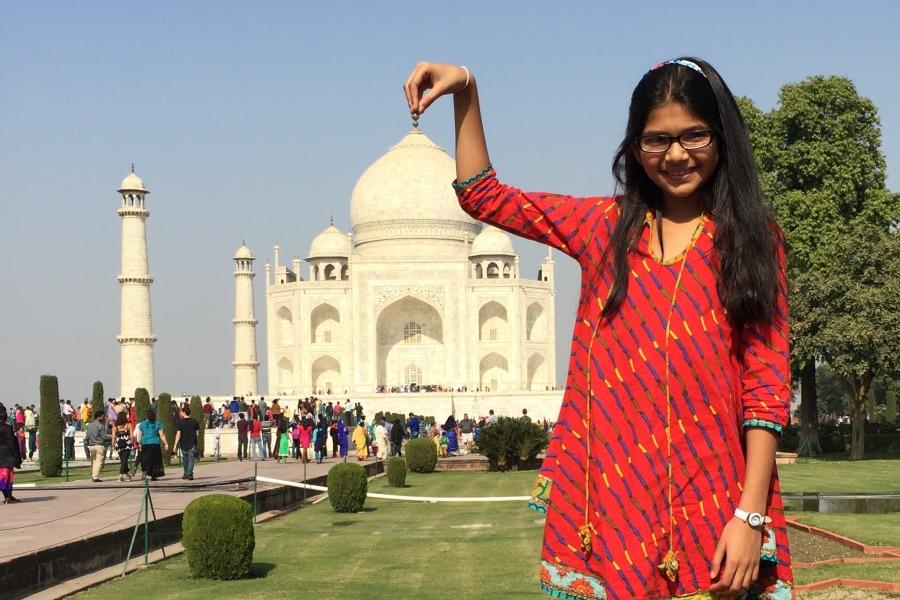 AGRA, INDIA – Currently I'm at one of the seven new wonders of the world, the Taj Mahal. While reporting, I'm also spending some time with family that I have not seen in a while. Our tour guide, Salman, is giving us interesting information as we go.
The Taj Mahal was built in memory of Queen Arjumand Banu Mumtaz Begum, the third wife of Emperor Shah Jahan. Queen Mumtaz had three wishes before she died. One was to take good care of her 14 children. Another wish was that Shah Jahan would never marry anyone else. And the last wish was he build something in memory of their love.
The Emperor Shah Jahan employed 20,000 workers to make Queen Mumtaz's wish come true. It took 22 years from 1630 to 1652 to build the Taj. After the Taj was built, it was said the Emperor cut off all the workers' hands so they couldn't build anything more beautiful than the Taj. However, our tour guide told us that's just a myth. What really happened was that the workers were paid so much money they didn't need to work ever again.
The Taj from afar looks all white, but if you go up close, you will see many colorful stones put into the exterior and interior walls. The stones are from all around the world, but there's one stone in particular that was quite interesting. It's orange and glows when the light of a full moon falls on it. This stone was originally brought from Turkey.
Inside the Taj, there is the Queen's grave and the Emperor's grave beside it. The graves are actually underground; what you see above is just a replica. There's also a feature of optical illusion. One of the four sided pillars with a zigzag alignment of stones appears eight sided if you see it from afar. Another interesting feature is that the four-sided minars are a bit slanted outwards. The reason for the slanted minars is to protect the main structure from earthquake damage. In case there's an earthquake. the minars will fall outward and will not damage the main tomb.
There is a lot of beauty in the Taj. It's amazing that even at that time people could make such a beautiful monument. No wonder the Taj Mahal has been recognized as one of the wonders of the world.
About the Contributor
Tisya Sharma, News Editor
I am Tisya Sharma, student of 5V. This is my third year at Colonial, and I love it. This year, I am a News Editor for the Colonial Times. I am involved...