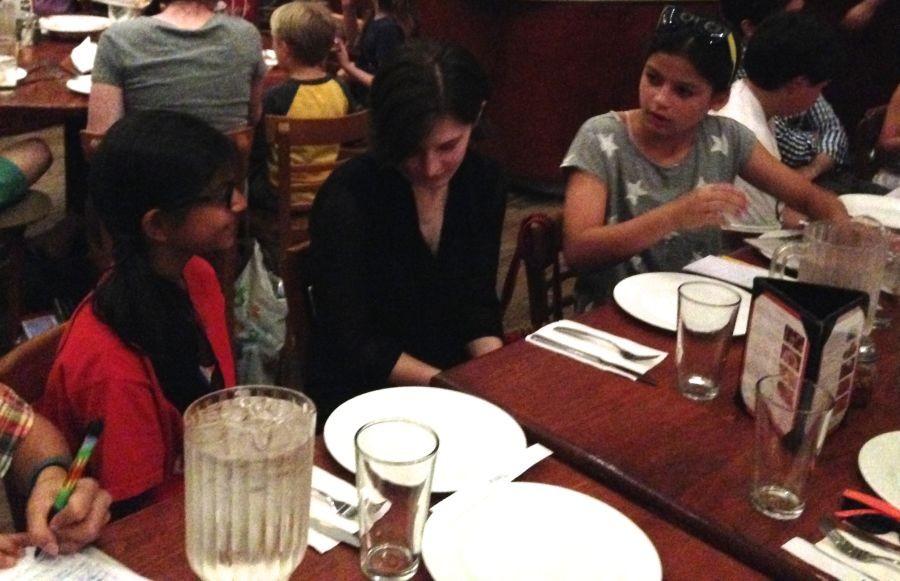 NEW YORK — Every year Mr. Rich Zahradnik, the advisor of the Colonial Times, takes the editors of the school paper on a trip. This year, the editors got to meet journalists who work for many different news outlets like BBC.com, TIME for Kids (TFK), CBS News and Business Insider. The students also got to visit the newsrooms of TFK and BBC.com.
The editors of the Colonial Times had lunch together in NYC with the journalists, where they got an opportunity to interview them. Ms. Allee Manning from TFK, who interestingly is a Pelham native, said, "I used to get TFK magazines when I was in third grade at Hutchinson School. I really loved reading them, and one day I came home and asked my parents, who do you think should win the presidential elections? They were surprised that I knew stuff like that. The truth was I really loved to learn from these magazines."
"In high school, I joined the school newspaper, the Pel Mel. I applied for the position of editor in chief, and I was selected. When it came to college, the question was what did I want to major in, and it was journalism. I graduated college in 2014 and worked part time for the Pelham Weekly."
Later on, she joined TIME for Kids.
When asked about political bias among news channels, Ms. Manning replied, "I have noticed the bias, like CNN is mostly for Democrats and Fox News is more for Republicans. I honestly like CNN better because the bias isn't as strong as Fox News. In college, I had a professor, and he told us everyone has a little bias in them, but as journalists, our job is to tell the truth and both sides of the story."
Ms. Manning emphasized that journalists should be honest. She said, "When I heard about the Brian Williams scandal, I was very annoyed. Once again, the lesson that my college professor told me held true again. Brian Williams made things up to make himself seem heroic, and he wasn't doing his job. People have sympathy for him, but I can't find that in me."
Every year, TIME for Kids picks about a dozen kids to be reporters for the magazine for the school year.
To be a good kid reporter for TFK, Ms. Manning said, "Kid reporters do anything to get the story. They can't be shy. They are very confident and are very brave as well. They have to be very organized, and they have to manage their time. One more thing would be curiosity."
The Colonial Times editors had a really exciting time in the BBC.com newsroom, where they got the opportunity to meet the editors. They even got to hold a Webby, an award given to BBC.com for their amazing web site. Besides news reporting, the students came across other jobs in the media like a social media executive who deals with updates for BBC.com on Facebook, Instagram and Twitter. In the TFK newsroom, the students got to see proof sheets of a forthcoming TFK magazine.
This was the last field trip for these Colonial Times editors and was a fun experience for them all. Thanks to Mr. Z for organizing this event and treating the editors to pizza and scrumptious desserts. (Publisher's note: Actually the parents paid for the lunch, which was much appreciated.)