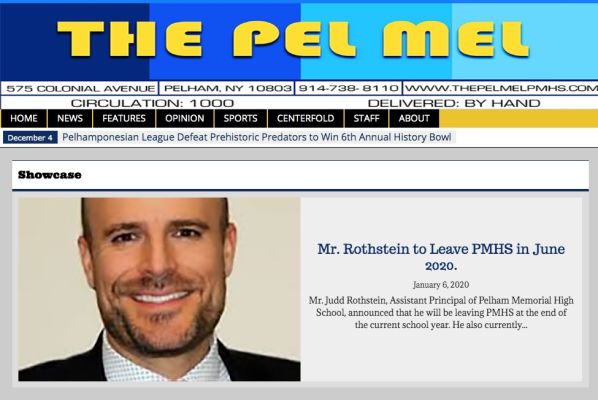 Nevan Malwana has known since the beginning of high school that he wanted to grow up and work with writing and social studies. He joined the Pel Mel, which is the Pelham Memorial High School newspaper, to help unlock new writing skills in preparation for his future. He was soon to become one of the few freshmen to be published on their first year at PMHS.
The Pel Mel is a newspaper made up of 21 reporters and editors. It comes out with six 12-page print editions every year. The paper has a specific work schedule during the year that consists of a week of brainstorming and listening in the hallway to find stories, another for writing then the third week is spent individually editing. This schedule is followed closely for every story.
Nevan, now a junior and associate editor-in-chief, said his favorite part about being on the Pel Mel "is the ability to inform not just his school, but maybe even the country what's happening with our school."
"My favorite section of the Pel Mel is the editorial section because you can express your opinions, something you can't do with a regular story," he said. "My favorite story was a news piece about investments in Pelham villages."
"If there was one thing I would change about the Pel Mel, it would be that we publish more stories per year," said Nevan. Since Nevan is the associate-editor-in-chief, that means that he may become editor-in-chief next year. "This year is more about learning about the responsibilities that come with my title," he said.
Aside from writing for the Pel Mel, Nevan also enjoys watching football, playing tennis, hanging out with friends and reading.
If he's not picked to be editor-in-chief, Nevan said, "I would chose editorial editor."
"I would definitely suggest joining the Pel Mel," he said. "Especially if you want to become a journalist or writer. But even if you don't, it's a really good experience and helps you improve your writing and unlock new writing and observation skills.