People in NY do not get to go to China a lot. From the plane ride to the money and the time it will take you. But if you go to NYC's Chinatown you will forget you're in NY.
I gave a survey to all the fourth graders. It said have you ever been to Chinatown? What is your favorite part about Chinatown? Here are the results.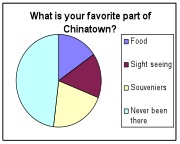 Souvenirs
The topic that got the most votes was souvenirs. The things that you can buy in Chinatown are very cool. Most of the stuff that you can buy there, you can't buy here. People also collect items from Chinatown.
Food
Chinatown of course sells Chinese food. It has many restaurants. The food is very good in my opinion. "Chinese food is very good and full of intense taste." Says Francesca Di Cristofano. I guess I'm not the only one that likes Chinatown's food.
Sightseeing
There are a lot of things to see in Chinatown. "I like to see all the dancers in costumes" says Daniella Cherner. My favorite thing to see is the big dragon that they hold on a stick and move it up and down.
If you have never been to Chinatown it is a lot of fun. Even if you're not from China. Well if you're from Italy you always have Arthur Avenue.