Ashhab Khan wins 24 tourney in playoff with Ben Glickman; eight picked for district meet
COLONIAL GYM — The 24 Game school tournament on May 7 determined the top six players who will play against the other schools, two alternates and Colonial School champion Ashhab Khan.
The tournament started out with 50 competitors and narrowed down to the final eight. Those students then played to figure out the top six and school champ. At the end of regular play, the top spot of champion was shared by Ben Glickman and Ashhab. A playoff crowned Ashhab the Colonial champion.
"I think it will be hard, one of my friends is very tough," said Ashhab of the upcoming tournament featuring all four Pelham elementary schools.
"I didn't win but it was still a great expierence" said Ben.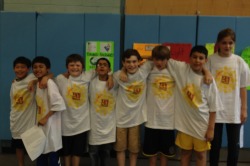 Also on the team are Rishi Basu, Ryan Gregware, Sam Cork and Manon Bushong. The two alternates who will play if someone is absent are Alex Michailoff and Ryan Chang.
"I think it will be hard practice, but to win out of 50 is great." said Rishi, who came in third.
The district tournament will be held on May 24.
About the Contributors
Manon Bushong, People Editor
My name is Manon Bushong. I'm in fifth grade and an editor for this paper. My favorite sport that I play is basketball, but also like soccer and lacrosse....
Henry Driesen, Sports Editor
My name is Henry Driesen and I am 10 years old and I was born in Norwalk, Connecticut. I enjoy playing sports like soccer, baseball and football. My favorite...