Pelham Middle School Drama Club Presents: Newsies Jr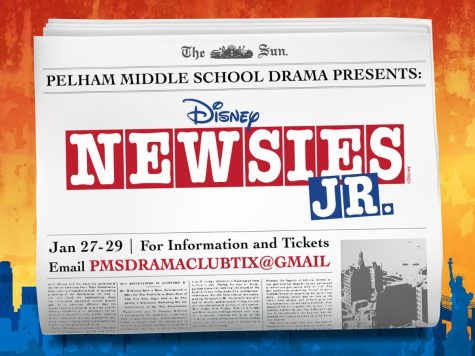 Pelham Middle School Drama Club presented the show Newsies Jr based off of the Broadway show. It is about kids who sell newspapers and go on strike.
The main character, Jack Kelly, is the leader of the Newsies. The other Newsies look up to him and he encourages them to go on their strike. When his best friend Crutchie gets taken away he is too discouraged to continue being the leader. Then after a while he realizes that he can't let the Newsies down and returns to them. Next, Crutchie comes back to the Newsies again. Jack Kelly's leadership kept the Newsies together.
The play had some people at the edge of their seats. We went around to see how people felt about the show. Madelyn Barlow said, " It was really professional, for a middle school play." Teddy Garry said, "I love how they fought for justice!"
Charlie, who played the main character in the show said, "Newsies was probably my favorite play. It was action packed, full of emotion, and we had a great cast." The villain, Rayan said, "I liked being the villain, it was cool. I loved being in the show because you got to know each other more."
The real newsies were kids in New York, specifically Brooklyn. They lived in poverty and sold newspapers like in the play. They went on strike because the newspaper companies raised the prices by way too much. One of the strike leader's names was Kid Blink. At one meeting Kid Blink shouted "If we are going to win this strike we will have to stick like glue and never fall apart. Am I right?" All their hard work paid off because the newspaper companies lowered the prices back to normal. A happy ending after all.
Overall, the show was inspiring! The Newsies were a brave group of kids who were very persistent. Next time you need to be brave, think of the Newsies and hold your head up high.
View Comments (1)