Pelham Celebrates: PMHS Hockey Team Victory with Parade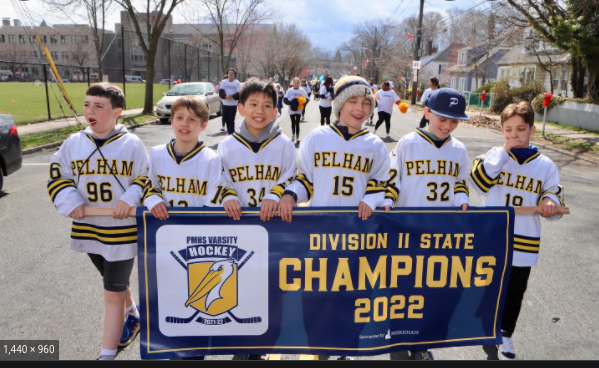 On Saturday March 26th, the Pelham Hockey Varsity team celebrated winning the state championship! They won the championship 7 to 6 facing their tough opponent Starpoint.
Following the victory, the team announced they would be holding a parade in the town square. The parade consisted of: Fire trucks, Police cars, Ambulances and Trucks where numerous players threw candy. The event had a great crowd, more than 200 people celebrated the win!
When Griffin Crotty student in 5S was asked about his experience at the parade he responded with "It was really fun. I got to lead the parade with my friends." When interviewed, Jakob Klossner a student in 5P who also was leading the parade said, "The parade was super fun. I got to meet some of the players."
After the parade ended the team headed to the gazebo next to town hall where speeches were read aloud. They congratulated Gib Smith the state MVP and also announced Coach Ed Witz retirement. His accomplishments include: 2 State championships, 500 wins and 38 years of coaching!
We are so proud of the Pelham Hockey Varsity Team and can't wait to see what they accomplish next!
View Comments (4)