Is it a Lightning Bolt? No! Is it a Thunderbolt? No! It is Sonic the Hedgehog 2!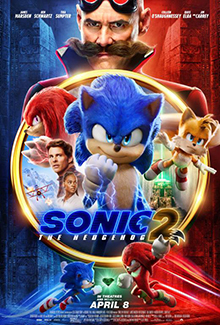 On April 8th, 2022 Sonic The Hedgehog 2 premiered. You can only watch this new movie in theaters but that didn't stop it from being loved by all.
Sonic the Hedgehog 2 is the sequel to Sonic the Hedgehog. The movie follows the adventures of Sonic and Tails on their quest to find the "Master Emerald." When Dr. Robotnik comes back from the mushroom planet. He brings the Echidna warrior Knuckles with him. Dr. Robotnik and Knuckles go track down Sonic and Tails to get the compass to the Master Emerald located in Serbia.
Colonial student Jakob said, "I liked how it played out the end credit scene with the hedgehog, which was cool, but the hedgehog didn't look the coolest." Oliver said, "I like it, it added so much more information because the first movie was like an introduction and Knuckles looked really cool." Lastly, Griffin in the 5th grade explained, "I liked the beginning, Knuckles appeared in the movie and ended up joining Sonic and Tails and beat the bad guys using his powers which turned Sonic gold."
Overall, Sonic The Hedgehog 2 is an action packed, fan favorite movie!
Leave a Comment
About the Contributors
Theodore Kim, Staff Reporter
Hi my name is Theodore but you can call me Theo, my favorite color is blue and I love lacrosse. I also love my sleepaway camp, camp cobbossee.
Vivian Shen, Staff Reporter
Hi, my name is Vivian Shen. I play a lot of sports such as gymnastics, field hockey, tennis, soccer, and swimming. I have two pet hamsters named Pom-Pom...
Alice Villagomez, Staff Reporter
Hi, my name is Alice Villagomez. I love cats and art. I have a pet cat named Pumpkin. I am also part Puerto Rican and Ecuadorian.